The rollout of the Ultra-Fast Broadband (UFB) network is now reaching most new subdivisions, and the older suburbs in our towns and cities.
Consumers are reaping the rewards of the faster data connection. This goes hand in hand with the unlimited data packages offered by the Internet Service Providers. We need to make sure that we are providing for this technology every time we cable a new house, or upgrade the wiring in a pre-loved home.
Cat6 cabling, and lots of it, should be the norm.
Think about the devices that currently need an internet connection. Smart TV's, AV Receivers, Media Servers, Computers, Lap Tops, Printers, & Gaming Consoles, just to name a few. And what else will be coming on stream in the future?
The Universal Cable
This is the get out of jail cable for all your data & technology needs. When we need to install IR control, or want to extend an HDMI connection to, or from, another room, you cannot beat a piece of cat6 cable to do this. As a rule of thumb, you should have a minimum of 2 data outlets behind each TV (one for the internet connection and one spare in case you need it for IR control or an HDMI connection). And wherever you are locating the devices named above that will connect to your main TV, a minimum of 6 outlets should be installed at this location.
Wi-Fi and Slow Internet Speeds
Slow internet speeds start at your Wi-Fi Router. With any device, like a Smart TV, that has a fixed LAN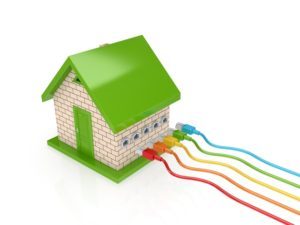 port/RJ45 connection, you should make sure that this connects to a wired network.  Streaming video uses a lot of bandwidth and will struggle on a Wi-Fi connection. Often end users and contractors extol Wi-Fi, but generally don't understand the technology, or have forgotten to install enough cables in the first place.  Devices connected to a Wi-Fi network share the bandwidth, and the more of them you connect, the slower the data speeds will be for them all. People see the pips on their Wi-Fi devices as the strength of their Wi-Fi signal. Correct. But as the strength of the signal slows it halves. And then incrementally halves again. Think of the Auckland motorway as an example of a Wi-Fi network. The more cars coming onto the motorway the slower the traffic gets.
How to speed up your Wi-Fi Network
The Wi-Fi router supplied by your internet service provider is an entry level device. It is normally a single band 2.4GHz model with a slow data throughput. The problem is that the 2.4GHz network is getting so congested with devices running in our home that everything is slowing down. If you want a fast-wireless network with little or no congestion issues, go out and buy yourself a fast-dual band Wi-Fi router with both 2.4GHz and 5GHz networks. Most of the latest devices we are using today will work on the 5GHz network as well, where there is less congestion, and the throughput speeds are much faster.
A point to remember
When you are at home at night, or on the weekend, and notice that the internet speed is slow or dropping out, the statistics say that 80% of the internet traffic in this country is used by the home consumer. Before you curse and swear about the internet service provider's network being broken, just realise that your issues are right in front of you. Talk to your internet service provider to see if you are on the best connection service they have. We generally have a choice of ADSL2+, VDSL2 and Fibre connections now days, depending on where you live of course.
In summary
Please remember that you are smart wiring the home of your paying customer who expects it to be cabled to the latest standards. If it is all about a budget then at least explain it to them why you need to install extra cabling. This may be their dream home and future proofing it will add value to their investment especially when it comes to resale. Communication is the key!
Your customer wanted an internet connected home! Did you skimp on the cat6 cable?