The NZ Festival of Motor Racing returns to Hampton Downs from January 13-14 with a very special Bathurst tribute.
The 4Guys Autobarn Legends of Bathurst festival is one of the most eagerly anticipated events in this summer's motorsport calendar. Hampton Downs will celebrate all things Bathurst from January 13-14 with a host of legends, including Jim Richards, Greg Murphy, Paul Radisich, John Bowe and Steve Richards confirmed for the event.
"Bathurst holds a special place in the hearts of everyone in motorsport in New Zealand and Australia," says Hampton Downs owner, Tony Quinn. "Everyone has their favourite Bathurst moment. The NZ Festival of Motor Racing will still celebrate classic cars but this year there will be a special emphasis on cars and drivers synonymous with Bathurst."
The very first NZ Festival of Motor Racing was held in 2010 and celebrated a true legend of the sport in Bruce McLaren. The festival is a celebration of a legendary motor racing personality, a particular marque or an historic era in the sport. Since the Bruce McLaren tribute the festival has honoured Chris Amon, Denny Hulme, Howden Ganley and Kenny Smith, while the featured marques include BMW, Ferrari and Porsche.
A highlight of the Legends of Bathurst festival will be the Bathurst Revival, which will be a chance for cars and drivers that have a connection with Bathurst to race on track. The two feature categories, the Historic Touring Car (NZ) Association and ENZED Central Muscle Cars promise to deliver some outstanding racing on the track.
The Historic Touring Car category was set up in 2015 to promote the purchase and active use of touring cars from the various categories which were run through the 1980s and 1990s. Fans can expect to see a broad range of Super Tourer models in a 23-strong field, from the popular E30 and E36 BMW 3-series models to the later model Honda Accords, Nissan Primeras and Volvo S40s.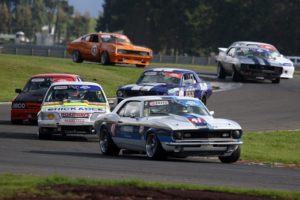 The ENZED Central Muscle Cars (CMC) is one of the most popular race categories in New Zealand. CMC was formed in 2003, by a group of like-minded enthusiasts from around the Central North Island (hence the name) who wanted to create a class catering to classic competition muscle cars. The category grew quickly, as many other competitors who shared the same passion for thundering, powersliding Australian and American muscle cars came on board and the fan base grew rapidly.
"The class has gone from strength to strength in recent years," says Clarke Hopkins of CMC.
"A lot of the guys are business owners who work really hard and fund their racing out of their own pocket. They're super passionate about the sport and we'd like to think we've got some of the best looking cars of any category in the country. Central Muscle Cars caters to production vehicles manufactured from 1958 – 1978. The great thing about muscle cars is no car sounds the same. Every car has its own distinctive sound and they're always beautifully turned out."
Formula Libre and Historic Formula Ford complete the racing on track. HD Auto track drive sessions will be available to Hampton Downs members so they too can take their cars on track. The Car Club Cruise will allow members of local car clubs to have a chance to drive on Hampton Downs International circuit while there will also be a massive Show 'n' Shine exhibition.